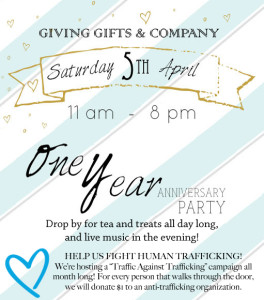 Our newest partner venue, Giving Gifts & Company, is celebrating their One Year Anniversary this April! Giving Gifts is a collective of local artists, all sharing one eclectic and charming little space at 4570 Main Street.
The big event takes place Saturday, April 5th, from 11:00 a.m. to 8:00 p.m. Please drop by for tea and treats all day long, and for live music from singer/songwriter Josh Niehaus in the evening. They're also marking the one-year milestone with a month-long Blue Heart Campaign fundraiser: for every person that comes into the store in April, Giving Gifts will donate $1 to the Somaly Mam Foundation to help fund their fight against the trafficking and sexual exploitation of women and girls in Southeast Asia. Did you catch that? All you need to do is walk through the door, and you'll be helping to make the world a better place!
To help get you through the door (and get those $1 donations adding up!) we're offering a 20% discount on Giving Gifts-hosted workshops if you come by Giving Gifts on Saturday, April 5th to sign up in person! We've got Trashion 101, felting classes, and a fascinator workshop coming up soon in the friendly little shop.
Some amazing prizes from members of the collective are also going to be up for grabs in a fundraising raffle: a terrarium from Green With Envy, a sterling silver necklace, a tank-top from Inner Fire, a felting kit from our very own Blushing Lotus, and lots of other goodies!