Our Instructors
Barbara Stroud
Barbara is the brains and creativity behind Blushing Lotus Designs. She teaches needle-felting and wet-felting at several locations around the Lower Mainland, and sells her needle-felted creations and DIY felting kits at select locations and online. She delights in guiding people in exploration of their own craftiness and seeing their enthusiasm for their finished projects. Dedicated to supporting local businesses, fostering community-spirit, and promoting DIY endeavours, you'll also find Barbara conducting fun little projects at community events like Car Free Day, Vancouver Mini Maker Faire, and the Port Moody Art Walk.
Currently studying Health Sciences full-time at Simon Fraser University, Barbara loves to avoid studying by exploring new designs and techniques in felting.  You can find the results in select retail locations and online.
Kim Werker
Kim Werker is a writer, editor, blogger, crafter, speaker and brainstormer. She's fascinated by creativity, crafts, publishing, and varied topics related to independent business and practice in these realms. She's the editor-in-chief of The Holocene, a digital microzine for crafters, makers and curious people that's in the very early stages of development. Through Mighty Ugly, she helps people and groups battle the demons that hold back their creative exploration.
Miriam Melanson
Miriam is the proud founder, president, and lead designer at Flaming Angels, a local company interested in every facet of avant-garde fashion design. Fascinated with the dark, kitschy, and uncanny side of underground fashion culture, she is always looking for challenging new projects, and looks forward to getting involved in every edgy, sexy and glamorous show out there! Miriam has been a faculty member at VCAD (the Visual College of Art and Design) since it opened in 2009. She instructs courses in the Fashion Design and Fashion Marketing and Merchandising programs.
Claudia Segovia 
Born in England to a Spanish opera-loving, piano-playing, chemist father and a Mexican dancing, dog-loving, brain researcher mother, artist Claudia Segovia grew up in MexicoCity and moved to Canada in 1997. She's a mother, a creature-maker, a choreographer, a dog lover, a blogger, a dance instructor, and a mixed-media artist. Claudia is passionate about creatures, and has created hundreds of them, both painted and 3D. She paints always, sews a few times a week, and teaches ballet and modern dance 3 or 4 times a week. Drinks chai quite often. She drives her kids every day, walks her dogs twice a day, and has tonnes of new ideas every single hour.
Claudia shows and sells her work in the Lower Mainland, USA, Mexico, and Spain. She is a receiver of the Excellence Award from the Federation of Canadian Artists, and is a proud faculty member of Arts Umbrella Dance and Art.
Leanne Prain
Leanne Prain is the author of two books, Yarn Bombing: The Art of Crochet and Knit Graffiti (co-authored with Mandy Moore) and Hoopla: The Art of Unexpected Embroidery, both published by Arsenal Pulp Press.
Crafty since childhood, Leanne learned to sew at an early age and has a passion for stitch work, silk-screening, fabric painting, knitting, and textile design. As a graphic designer, she has a particular interest in how handmade skills can flourish and be taught in the internet age. She has been blogging about crafts and design in various incarnations since 2005, notably keeping the infamous knit graffiti blog yarnbombing.com.
Leanne studied Creative Writing and Art History at the University of British Columbia and holds a Master of Publishing degree from Simon Fraser University. She is a member of the Society of Graphic Designers of Canada (GDC) and The Writers Union of Canada.
Born and raised in the Comox Valley, Leanne writes and designs in Vancouver, Canada. She enjoys walking around cities, strong coffee, photography, hand-painted signage, blank notebooks, and thrifting vintage pyrex and craft supplies.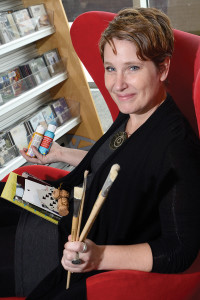 Denise Corcoran
Denise Corcoran, aka Thrifty By Design, is a web designer, crafter extraordinaire, and upcycler of things. She spends her time perusing the local thrift shops for kewl finds to update or upcycle. She crafts items from 'junk' for fun – wine cork jewelry, wool sweater stuffies, toilet paper roll gift boxes and more. Denise also facilitates numerous upcycling workshops (otherwise known as "Crafternoons") throughout Vancouver. She's a regular contributor to online magazine Made in Mag where she writes DIY tutorials in addition to sharing info about local happenings and businesses.