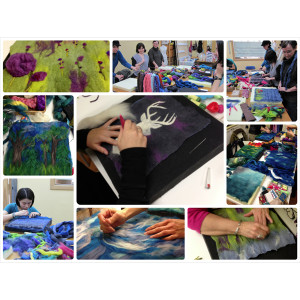 Basics of Felting (2 Sessions)
Learn all the fundamental skills needed to begin producing amazing works of felted art! This 4-hour class is broken into two parts to give you a solid understanding of the process and properties of both needle felting and wet felting, and to ensure that you leave with the confidence to undertake future projects outside of the classroom. At the end of the class, you will leave with a completed project that expresses your own creativity.
In the first (two hour) section, we will cover the elements of wet felting: the basic properties of wool, the basic physical process of transforming wool into felt, and how to plan and lay out a design, incorporate texture, blend colours, and integrate embellishments.
In the second (two hour) section, we will cover needle felting techniques and tools, and the basics for planning and felting a two dimensional piece, including how to plan and lay out a design, shape and alter designs, create texture, anchor loose fibres, add embellishments, and finishing techniques.
Special emphasis will be placed on participants' goals – bring your ideas, questions, struggles, and enthusiasm so that we can tailor the class to meet your needs! This workshop is designed to allow a creative space that allows every participant to complete a project while finding all the answers needed to pursue felting in their own time to complete future projects.